We recently got to tour Nevis Animal Speak – a small Caribbean animal clinic. In fact, it is the first private small animal veterinary clinic in St. Kitts and Nevis' history! The clinic is a 501c3 non-profit with a mission to ensure no dog, cat or stray goes without necessary medical care on the small Caribbean island of Nevis.
About Nevis Animal Speak
Nevis Animal Speak was founded by Janice Jensen, an animal expert with over 30 years of experience teaching animal welfare education throughout the globe. When Janice, an American ex-pat, relocated to the small island of Nevis, she saw a vision of how she could greatly improve the welfare of the cats and dogs of the island…And of course, the well-being of the pet parents too!
Nevis Animal Speak carries out their mission by offering low-cost vet health services, conducting spay and neutering for strays, and offering educational services in schools and the community. They partner with the Ross University School of Veterinary Medicine in St. Kitts on many programs including finding foster and permanent homes for animals in need.
Nevis Animal Speak Services
Nevis Animal Speak's Paws for a Cause Caribbean Animal Clinic offers the following services:
Preventive Medicine such as flea, tick and heartworm prevention
Consultation and Treatment of Common Veterinary Issues
Vaccines + Wellness Exams
Low-Cost Spay and Neuter Packages
Soft Tissue + Wound Care
Referrals for Comprehensive Diagnostics
Everyone coming into the clinic gets treated equally whether it is an animal that gets flown in on a private jet or is a local man that has walked two miles with his dog to seek help. Everyone gets the same level of care.
Nevis Animal Speak Small Animal Clinic Tour
As we began our tour, Janice explained how the clinic is thoughtfully laid out so that they can be efficient in serving incoming patients. Counters, shelving, and tables were organized so that everything is in line of sight and the most used equipment and supplies are at the staff's fingertips.  
The small animal clinic operates on a bootstrapped strategy so they can pour all donations directly into their mission of helping as many animals as they can. Everything at the clinic is donated. EVERYTHING!
Staff regularly go to the Caribbean version of their Home Depot and ask if there is anything they are throwing away. One man's trash is another's treasure and everything they can get, they use! For example, we were shown one wall that was patchworked together with leftover tile. Other donations include tables from restaurants and workout mats.
While the clinic runs on a slim budget, they do not skimp on the important details like ensuring that the facility is sterile and safe. For instance, the floor is medical grade flooring so no bacteria or germs can get through. The seams are heat sealed from underneath so they won't pass anything from one animal to another.
Reception Area
We began our tour in the bright and spacious main reception area. It is divided into sections with a front desk, a scale, a retail section, and several chairs and crates organized so that patients and owners have space to wait.
The crates are not always to put pets in, but rather to create some privacy. Most of the dogs and cats have never been in a building, let alone to a vet. And many have not been around other dogs and cats. 
In order to keep their stress down, they thoughtfully space out the crates to break up the animal's line of sight. Sometimes people come in with an armful of puppies not contained in boxes and they are running all over, so reception knows to put them in the crate so they stay safe until they can be assessed.
In-House Veterinary Pharmacy
They have an in-house pharmacy. It is a big place where donations make a difference. If they are in-date, they can sell them and can generate funds from them. If it is out of date, expired medicine is still good and still works. They have a two-year window and can sell those drugs as donated drugs at a lower cost. They only charge 10 EC for donated prescriptions to keep the cost low for island residents.
The reception and front desk can refill preventive medications so that the doctor does not need to be bothered. Janice said that once an animal is on preventive medicine, they do not need to be seen again.
Retail Area
They do not charge anything more than it costs the clinic for any retail items that are medically relevant. For example, since Greenies dog treats promote dental health, they are not marked up in any way. If it is toys, leashes or collars, they add a small mark-up to help support the clinic.
An excellent dog food company called Nulo link https://nulo.com/ donates food to the clinic. Janice explained that they just need to pay for the shipping. It cost $9,000 EC (East Caribbean)for the pallets of food. As they sell at cost, they can make that cost up and generate another $9,000 EC so in the end they'll make a few thousand US dollars. They will in turn invest that back into the clinic to purchase equipment, pay their employees and keep the lights on.
Exam Rooms
There are two exam rooms that are painted blue. Janice educated us that blue is in a dog's color spectrum. It is a calming color to dogs and people, so they wanted to do something that is calming to everyone.  Again, in these rooms, the tables were donated from places that no longer needed them.
Main Treatment Area
As we moved the clinic, Janice explained that sometimes there are things that they cannot do in the exam room. So, they come back to the main treatment room where they have more space to work and more medical items at their disposal.
In the main treatment area, Janice pointed to the kennel holding a long-term patient named Charlie. She explained that they pulled the cages out of the garbage from a vet hospital on another island. Everything in the room is labeled so that visiting vets and volunteers can easily find what they need.
Operating Room
Continuing on the tour, we moved to the Operating Room where they received their surgical lights from a hospital that was upgrading their equipment. Even their oxygen monitor is on loan from the animal hospital at the Ross University in St. Kitts. They lent it to Nevis Animal Speak for two weeks while their school is on break so they can do surgeries. Otherwise, they are waiting for their machine to come in.
Another medical device was pulled out of trash and they purchased an anesthesia machine. Everything was gently used and they paid a minimal amount to ship it. However, all of their equipment is failing right now and they need to replace it.
Though, they are anxiously awaiting a new surgery table purchased with a grant. Janice explained that can be physically exhausting to stand for hours. Imagine doing a 5-hour surgery bent over looking at teeny tiny things….. The new surgery table will tilt and swivel with the press of a button and it can catch things so they do not splash onto the floor.
X-Ray Room
The most expensive thing aside from the building is the x-ray machine. It has been critical to saving lives. If you cannot see what is inside the animal, then you are really limited in how you can best help them. Right now, they have an x-ray machine that is on loan and they are hoping to raise enough funds to buy a permanent one for the clinic.
Storage Room
Last, but not least, we were shown the storage room. Originally, the clinic was just one small room that is now used for storage. It was where all triage, assessment, exams and surgeries were conducted in the first 9 months they were open.
In those first 9 months that the island vet clinic was in operation, they saw over a THOUSAND patients in this small space before they could expand. Eventually they purchase another building and renovated it to connect it.
Ways You Can Help
Donate funds.
Every little bit helps! Monetary donations are used wisely to make a big difference in pets welfare.
Purchase through Amazon Smile.
Simply designate Nevis Animal Speak as your charity, shop Amazon as you normally would, and Amazon will donate a percentage of their sales to them!
Buy Nevis Animal Speak logo merchandise.
Every dog mom needs a cute shirt like this! It also makes a fabulous gift idea for pet lovers! Shop Nevis Animal Speak logo merchandise!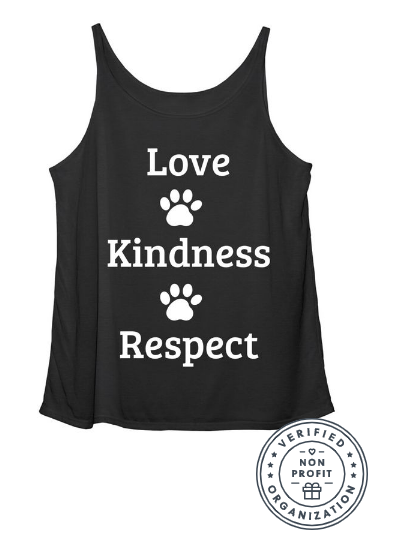 Foster or adopt an animal in need.
If you're a Nevis or St. Kitts resident, consider adopting a pet to add joy to your life!
Follow the Nevis Nice Foster Project on Facebook.
With no shelters on the island of Nevis, The Nevis Nice Foster Project seeks to pair animals in need with foster or permanent homes through the power of social media.
Start a Facebook Fundraiser.
Whether it is your birthday, a special occasion, or in memory of a beloved pet, with an easy click of a button, you can set up a Facebook fundraiser so your friends and family can contribute. 100% goes to Nevis Animal Speak.
Shop at OneLovePets.com.
For every two tags purchased for your pet at OneLovePets.com, luggage or keychain, one month of parasite protection will be provided to neglected cats and dogs in needy communities.
Provide medical donations and supplies.
If you are a vet, medical supplier or know anyone that works in these areas, this link will take you to a live list of Nevis Animal Speak's current veterinary medical supply needs.
Take a Volunteer Vacation as a Vet Tech or Veterinarian.
Vacation in the Caribbean while helping the animals of Nevis! Nevis Animal Speak is looking for qualified veterinarians and vet techs to volunteer time at the clinic in exchange for an incredible life changing experience!
Follow Nevis Animal Speak on Social Media.
Last, but not least, follow Nevis Animal Speak on Instagram, Facebook, YouTube and Twitter.