If you're looking for a fun night in, check out our picks for top family-friendly movies and television series!
We'll be adding more good movies for families, reviews, and kid-friendly tv series suggestions as we roll through the year so check back often for updates!
Spring 2023 New Family Movies
Watch Disney's Oscar®-winning classic come to life in a new live-action movie! The Little Mermaid follows the adventures of a mermaid who wants to explore the world beyond the sea. Starring Halle Bailey as Ariel, Jonah Hauer-King as Prince Eric, and Melissa McCarthy as villainous Ursula. This updated version will include music from the original film plus new lyrics by producer Lin-Manuel Miranda.
The Little Mermaid | Official Trailer
Guardians of the Galaxy Volume 3 picks up after the death of Peter Quill's love Gamora. He must rally the guardians on a new mission that threatens the universe and one of their team members. The original cast stars along with a few new additions. This sci-fi action adventure is rated PG-13 for violence and language.
PETER PAN & WENDY is available for streaming exclusively on Disney+. This an all-new live-action film featuring Jude Law as the evil Captain Hook and Black-ish's Yara Shahidi as Tinkerbell has been in development for almost seven years. Based on J.M. Barrie's adventurous tale of a London boy who does not want to grow up and finds his way to the magical island of Neverland, this PG rated movie will feature Jim Gaffigan as Smee and newcomers Alexander Molony as Peter and Ever Anderson as Wendy.
Illumination and Nintendo team up to bring one of the most beloved video games to life! This creatively done animated adventure tells the back story of how the Super Mario Brothers came to be! This PG-rated family film features the voices of Chris Pratt as Mario, Charlie Day as Luigi, Jack Black as Bowser, and Anya Taylor-Joy as Princess Peach.
Winter 2022 New Family Movies
Shazam: Fury of the Gods was released on March 17th. This action/adventure/comedy DC Comics sequel is a follow up to the 2019 Shazam movie. It is rated PG-13 primarily for violence and mild language. We felt comfortable having our 10 and 12-year-olds watch it. Sequels are usually not as good as the first movie, but we really enjoyed this film! We saw it in IMAX which added to the effects.
DreamWorks' Puss in Boots is back in a sequel to its 2011 feature film starring the lovable and adventurous daredevil cat! Voiced by Antonio Banderas, the story follows Puss along with his returning love interest Kitty Softpaws (Selma Hayek) and an Adorable new sidekick, Perrito!
Rated PG for some mild scary scenes, this movie has an original plot that will keep parents and the little ones entertained! Staying true to the Shrek franchise, the story creatively ties in other fairytale figures. Early IMDB reviews rate it a 7.6/10. We highly recommend this fun watch!
Fall 2022 New Family Movies
Disney's latest animated movie is certainly a deviation from the norm! Rated PG, Strange World is an action adventure that follows Searcher Clade (voiced by Jake Gyllenhaal) on a mission to save his homeland. Gabrielle Union, Lucy Liu, and Dennis Quaid lend their voices to the supporting cast. This movie is a different story than the run of the mill kids' movie. It will keep you guessing and has subtle messaging about acceptance, unity, and conservation. Our whole family loved it! Buy it now on Amazon or watch for free on Disney+!
Slumberland is an inventive action-adventure movie starring Jason Momoa, Kyle Chandler, and Marlow Barkley (also appeared in Spirited). It follows a young girl into a fantasy world in search of treasure. The advertising for this movie was underplayed so I wasn't sure what to expect. However, this was one of our favorite non-animated family movies of 2022!
This holiday musical stars Ryan Reynolds, Will Ferrell, and Octavia Spencer in a fun twist on A Christmas Carol. Slumberland's Marlow Barkley also appears as Reynolds' niece. For those that aren't fans of musicals, it is not all singing. There is a lot of dialog, feel-good holiday moments, and classic Reynolds/Ferrell comedy moments! It is rated PG-13 primarily for strong language and some violence. We let our 10 and 12-year-old watch it and felt comfortable with that.
If you have a big crazy family like us, you can totally relate to Easter Sunday! This 𝗳𝗮𝘀𝘁-𝗽𝗮𝗰𝗲𝗱 𝗰𝗼𝗺𝗲𝗱𝘆 follows stand-up comic Jo Koy and his son as they travel to visit their Filipino family in the San Francisco suburbs. Crazy Rich Asians' Jimmy O. Yang co-stars along with a big supporting cast.
Family quarrels, an encounter with bad guys, and an inspiring karaoke performance are all part of this fun watch. Plus, we loved the special appearances by Tiffany Haddish and Lou Diamond Phillips!
Easter Sunday is rated PG-13. We found it suitable for our tween kids, but it does contain occasional curse words, weapons and fighting scenes.
Watch the Official Secret Headquarters Trailer on Universal Pictures YouTube channel:
Fall 2022 New Family Shows
Star Trek: Prodigy Season 1 Volume 1 is an animated adventure sci-fi series geared towards youth ages 7 and up. It follows a group of teens on galactic adventures based on the popular Star Trek franchise. Season 1 Volume 1 contains 10 exciting episodes!
George Lopez lends his voice as Santa in Boss Baby Christmas Bonus. In this 44-minute Netflix Christmas special, Tim tries to get business-minded Boss Baby into the holiday spirit. Will he succeed? You can't imagine what predicament Boss Baby gets himself into this time!
Want more of the most awesome prehistoric family? Six episodes of DreamWorks The Croods: Family Tree will be available on Hulu and Peacock November 25! These animated shows run under 30 minutes each making it the perfect pre-bedtime family watch!
Our favorite '80s characters are back with a brand-new volume! The Smurfs: Season 1, Volume 2 features new girl Smurfs named Willow, Blossom, Storm, and Lily! Find out how the Smurfs outsmart Gargamel once again in this exciting new 9-eipsode DVD!
Check out this smurf-tastic Halloween Treat Bag inspired by The Smurfs: Season 1, Volume 2! Click the link to join the fun: https://bit.ly/SmurfsS1V2BagCraft
Family-Friendly TV Shows & Movies Released in Summer 2022
Minions: The Rise of Gru – On Digital Now + Blu-Ray Starting September 6
In the long-awaited next edition of the Minions film series, Minions: The Rise of Gru tells the back story of the supervillain. Steve Carell reprises his role in this PG-rated animated adventure comedy.
As usual, this Minions sequel did NOT disappoint! It was a comedic hit for the whole family. Check out our full Minions: The Rise of Gru movie review here!
Download or print a Minions Activity Kit that includes DIY crafts, a banana milkshake recipe, and more!
This family-friendly action-comedy flick pairs Owen Wilson with Walker Scobell known for playing young Adam in The Adam Project. Ant Man's Michael Peña co-stars as the villain leader. The movie follows a group of friends who discover a secret and get themselves in trouble in the process.
The movie is rated PG and has mild violence making it a great pick for elementary school kids. It clocks in at just under 90 minutes so it does not drag on like some other action movies.
We felt the movie was a little light on action — and on Owen Wilson. However, our kids really enjoyed Secret Headquarters and described it as AMAZING!
Watch the Official Secret Headquarters Trailer on Paramount+ YouTube channel:
The J Team – On DVD and Digital Now
𝗖𝗮𝗹𝗹𝗶𝗻𝗴 𝗮𝗹𝗹 𝗝𝗼𝗝𝗼 𝗦𝗶𝘄𝗮 𝗳𝗮𝗻𝘀! 𝗧𝗵𝗲 𝗝 𝗧𝗲𝗮𝗺 𝗶𝘀 𝗻𝗼𝘄 𝗮𝘃𝗮𝗶𝗹𝗮𝗯𝗹𝗲 𝗼𝗻 𝗱𝗶𝗴𝗶𝘁𝗮𝗹 𝗮𝗻𝗱 𝗗𝗩𝗗!
⠀
This brand-new movie from 𝘕𝘪𝘤𝘬𝘦𝘭𝘰𝘥𝘦𝘰𝘯 follows JoJo as she starts her own unique dance team and learns valuable life lessons along the way about friendship, perseverance, and 𝙣𝙚𝙫𝙚𝙧 𝙡𝙚𝙩𝙩𝙞𝙣𝙜 𝙖𝙣𝙮𝙤𝙣𝙚 𝙙𝙞𝙢 𝙮𝙤𝙪𝙧 𝙨𝙥𝙖𝙧𝙠𝙡𝙚!
⠀
Check out the movie review below on The J Team and click here to download instructions to create a DIY craft JoJo Siwa style bow!
Marcel The Shell with Shoes On is a heartwarming tale the entire family will love! This top-rated full-length movie is based on two short films and a New York Times best-selling book. Roger Ebert explains that it "places a glaring spotlight on the pros and cons of sharing your life online, while representing caregivers who have lost loved ones unexpectedly and find themselves wondering how life will continue to flourish without them. "
Family-Friendly TV Shows & Movies Released in Spring 2022
Lightyear – Available Now On-Demand + For Purchase
Lightyear tells the back story of the popular Toy Story character Buzz Lightyear. Chris Evans stars as the voice of the famous Space Ranger in an intergalactic animated sci-fi adventure. The question is still up in the air as to when Lightyear will be on Disney Plus. However, insiders estimate that Lightyear will be released to Disney+ by early August.
The Bad Guys – Now Available On-Demand + For Purchase
The Bad Guys is an original tale from DreamWorks Animation. Based on a New York Times best-selling book series, this action comedy follows five criminal-minded friends as they attempt to turn good!
If you liked Zootopia and Sing, you will love this one! It had lots of plot twists and engaging characters that people of all ages can appreciate. Check out our kids take on the movie:
Watch The Bad Guys trailer here:
Sonic The Hedgehog 2 – On Demand Now I DVD+Blue-ray Release August 9
Sonic The Hedgehog 2 returns in this long-awaited sequel to the 2020 live-action film with rave reviews! James Marsden returns as Sonic's human sidekick and Jim Carrey starts as the villain. Watch Sonic the Hedgehog 2 now On Demand. Download a free Sonic the Hedgehog 2 movie printable activity book below!
Nick Jr. Spring is Here! – On DVD Now
Younger kids will love this new spring collection featuring six episodes from Paw Patrol, Blue's Clues & You!, Baby Shark's Big Show! and Blaze and The Monster Machines. The DVD will be out starting April 5, 2022 from Paramount Home Entertainment and Nickelodeon Home Entertainment on April 5, 2022.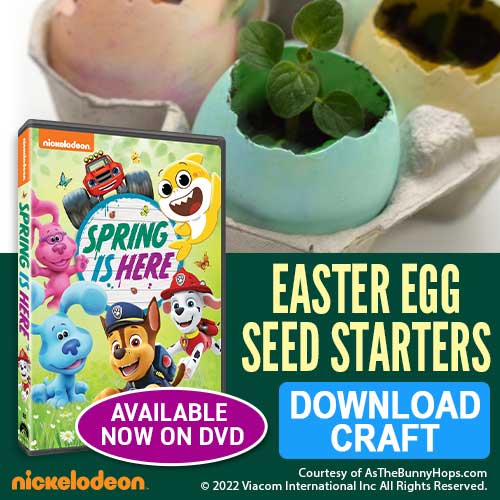 Kamp Koral: SpongeBob's Under Years! – On DVD Now
In this adorable 13-episode prequel series,follow SpongeBob, Patrick, Sandy, and Squidward on their adventures at Kamp Koral sleepaway camp. The beloved characters are just 10 years old in this series making it the perfect fit for young elementary schoolers.
**Save big with discounted movie gift cards at Raise.com!
Additional Family-Friendly TV Shows
Young Rock – Now on NBC / Streaming on Peacock
Young Rock is a PG-rated national television show starring Dwayne "The Rock" Johnson. The Rock narrates the show from present day as he prepares to run for President of the United States. The show follows the young Dwayne "Dewie" Johnson at several points in his life: as a young adolescent, as a high schooler, at college, and early in his career. The Rock's family is part of the WWF (now called WWE) wrestling federation and he eventually pursues a career in wrestling as well. Several popular WWF wrestling industry legends including Hulk Hogan, Andre the Giant, the Iron Shiek, and Vince McMahon appear in episodes as well. They did an excellent job of casting people that looked so like the original superstars! Throughout the episodes, Dwayne uncovers valuable life lessons about working hard, living honestly, and persevering that are great messages for kids to learn from!
Jurassic World: Camp Cretaceous – Available Now on Netflix
Jurassic World: Camp Cretaceous is a kid-friendly version of the movie series produced by DreamWorks Animation. Perfect for elementary school-aged children, the series follows six teenagers as they encounter dinosaurs at their adventure camp.
Secrets of Sulpher Springs – Available Now on Disney
Disney's Secrets of Sulpher Springs is a unique tale centered on a family that moves into a hotel with an infamous past. It has some mildly scary parts involving ghosts but is appropriate for mid-elementary school aged children and older. Disney has released two seasons so far and it has been renewed for a third.
Lost in Space – Available Now on Netflix
Lost in Space is a three-season sci-fi fantasy series on Netflix. CommonSenseMedia.org rates it as appropriate for ages 13+. However, we let our elementary school aged children watch it. The official rating is PG for mild violence. It is a suspenseful and engaging watch for the entire family. Our only disappointing disclaimer is that Netflix left it as a cliffhanger and cancelled it after Season 3.
Additional Family-Friendly Movies
Sing 2 – Available Now
Sing louder. Dance prouder. Dream bigger. This is your moment. Sing 2 is another hit with the kids! And the gang is all back for some epic song and dance numbers! Illumination's sequel has been called the 'feel-good' movie of 2022 and it is one you will not want to miss! This movie is sure to put a smile on your face!
The long-awaited sequel to 2017's Boss Baby, The Boss Baby: Family Business was released by Universal Pictures Dreamworks Animation on July 2, 2021. It will be available in theaters and streaming on Peacock. Like the original, Boss Baby 2 is rated PG for 'rude humor' and mild language.
Boss Baby 2 picks up with baby Ted (Alec Baldwin) and his older bro Tim (James Marsden) as adults. They encounter a new boss lady baby who reconnects the brothers on a new family business venture.
Click below to watch the official Boss Baby: Family Business trailer! Also, if your kids love Boss Baby, be sure to download our FREE Boss Baby printable activities!
SPIRIT UNTAMED – Available Now to Rent + Purchase
Another one of Dreamworks summer 2021 films is SPIRIT UNTAMED was released on June 4, 2021. SPIRIT UNTAMED is rated PG and comes in at just under 90 minutes in run time.
It is an original story about a young girl named Lucky Prescott and her connection to a wild horse. Along the way, they make friendships and encounter danger that will have you on the edge of your seat! Featuring the voices of Isabela Merced (from Dora and the Lost City of Gold) and Oscar nominated Jake Gyllenhaal, this is a family adventure movie you won't want to miss!
We had the opportunity to preview the movie. It started off a bit slow and I expected it to be the run of the mill kids talking animal movie. BUT it ended up becoming very action-packed and I found myself glued to my seat nervously waiting to see what happened next! (And the horse doesn't actually talk.) It was a really cute film that the whole family will enjoy!
Check out our reel for a kid's take on the SPIRIT UNTAMED review – note, my daughter gives away a little bit of the plot in the last few seconds of the video.
Click on the link below to watch the Spirit Untamed trailer!
Tom & Jerry The Movie is a live-action movie that tells the story of how Tom & Jerry met. It is a great family film full of comedic surprises. Click here to read our full movie review and download kids activity printables too!
Raya and the Last Dragon is an animated action-adventure movie that premiered in early March 2021 on Disney+. This IMDB top-rated family movie is set in a fictional world called Kumandra and stars a heroine named Raya and follows her quest to find the last dragon in their ancient civilization.
The film is rated PG and runs just under 2 hours. Common Sense Media recommends it for elementary school-age kids and up due to its mild violence involving monster attacks.